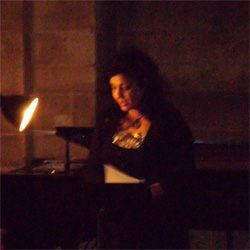 Angeline Kanagasooriam was born and bred in Singapore. Her musical training began at the age of 4, first with piano under Douglas Tan and then with voice under Lillian Choo. She left Singapore with an LRSM (piano) and LTCL (voice) to come to the UK for further training in voice while continuing her academic studies. Her final performance in Singapore was at the Cathedral as soprano/treble soloist for the enthronement of the Archbishop of South-east Asia.
She has been a regular recitalist, first with accompanist Derek Hyde and now with Stephen Matthews. Her voice training in the UK was with Nigel Wickens and Geraldine Hackett-Jones in Cambridge and then for 7 years with Professor Pamela Bowden FRMCM FRSA, international adjudicator and member of the council of the Royal Philharmonic Society. After that she worked with Jonathan Hinden, principal coach of Glyndebourne Opera and Professor at the Guildhall School of Music and Drama and Robin Bowman, Head of Academic Studies at the Guildhall School of Music in London. Angeline was made a Fellow of the Trinity College of London in 2000.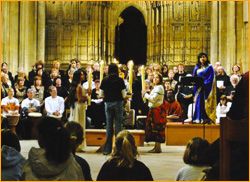 Her wide vocal range, spanning 3 full octaves, and varied repertoire reveals a versatile performer equally at home with operatic roles like Queen of the Night (Mozart's Die Zauberflöte), Lady Leonora (Verdi's IlTravatore), Oscar the Page (Verdi's Un Ballo in Maschera) or young Sophie (Strauss's Der Rosenkavalier), the intimacy of the recital with Schumann's Fraun Liebe und Leben, Granados Tonadillas, Britten's Cabaret Songs, Bliss's Seven American Poems. She has done three CD recordings; Peace in our Time, Christmas Spirit and A Long Way from Home. Please see www.angelinekanagasooriam.co.uk
In May 2012, she founded the Medics and Scientists Music Ensemble (MSME), which performs to raise funds for selected Charities. While in Singapore, Angeline was a Newscaster with MediaCorp formerly the Singapore Broadcasting Corporation.

Medics and Scientists Music Ensemble (MSME) & Friends performs, in aid of Medicins Sans Frontieres (MSF), selected numbers of Haydn's Creation, conducted by Ralph Allwood MBE in Canterbury Cathedral during Canterbury Festival 2018. Soloists:- Angeline Kanagasooriam (Gabriel), Robert Stroud (Uriel), Markus Maiden Tilsen (Raphael & Adam), Ruth Denton (Eve), Michael Cooke (Organist).
-----------------------------------------------------------------------------------------------------------------------------------------------------------
For_David_Kanagasooriam_Short-master from ZOOMFILMS on Vimeo.
" Brava!……..how lovely to have been at your concert last evening...your audience was so appreciative..." KMG.
...you radiated joy....you didn't just sing the Schumann, you lived it...….it was an amazing performance, just gorgeous...stunning...." LT.
"To hear your beautifully pitched voice echoing round the pillars was quite magical" GJB.
-----------------------------------------------------------------------------------------------------------------------------------------------------------
-----------------------------------------------------------------------------------------------------------------------------------------------------------